Owning a restaurant is a rewarding career. There is nothing better than knowing you create food that will feed a family, brighten a person's day, or take their taste buds on a worldly adventure! However, restaurants also have many moving parts, which is where apps like qMenu come in handy.
There are plenty of reasons to love qMenu, including our live status updates and having the lowest rates of any platform. But we're excited to announce that the ultimate online ordering solution just got better with our new QR Scan feature!
If you're unsure why you need to use our qMenu QR Scan feature, let us count the ways our new addition is sure to be your new favorite tool!
It's Easy to Use
A lot goes into running a business, from the daily operations to cooking delicious food. Few restaurant owners have the energy, let alone the extra time to dedicate to learning a new tool. That is the beauty of our new qMenu QR Scan feature. This dine-in solution housed in-app is both easy to install and enhances your restaurant's efficiency.
You and your staff can seamlessly manage every table from our easy-to-use portal. In the general settings tab of your qMenu site, you can manage your QR codes, attendants, set notification preferences, and much more.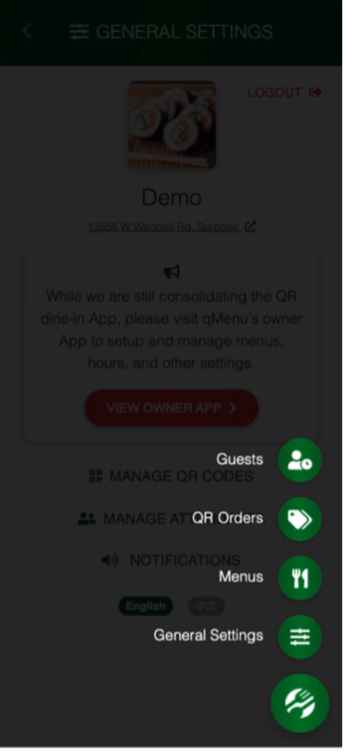 It Keeps Your Employees and Your Customers Safe
The global pandemic still impacts our daily lives. Many restaurant owners are concerned about keeping their employees and customers safe while still providing an excellent experience. The qMenu QR Scan feature allows customers to view your menu, place an order, ask for refills, and their check all in one place. What is so great about this is that it lowers the number of face-to- face interactions between the customer and the employees, making the risk of exposure less of a problem.
You Can See Through the Eyes of Your Customers
A common disconnect between a restaurant and its customers is the dining experience. However, with the qMenu QR Scan feature, you can get insight into your customer's experience. The preview feature allows you to see through the eyes of your diner, walking through what it's like to order at your restaurant.
There is More to Come
Although we currently don't support direct in-app payment integration, we are excited to announce that it is on the horizon. We aren't satisfied with things being the way they are, and nor should you be. There is always the opportunity to make things bigger and better, and we believe that those who take advantage of this are a sign of a great business.
What are you waiting for?
QR Dine-in only costs $0.10 per order! Click the button below to start using QR codes.